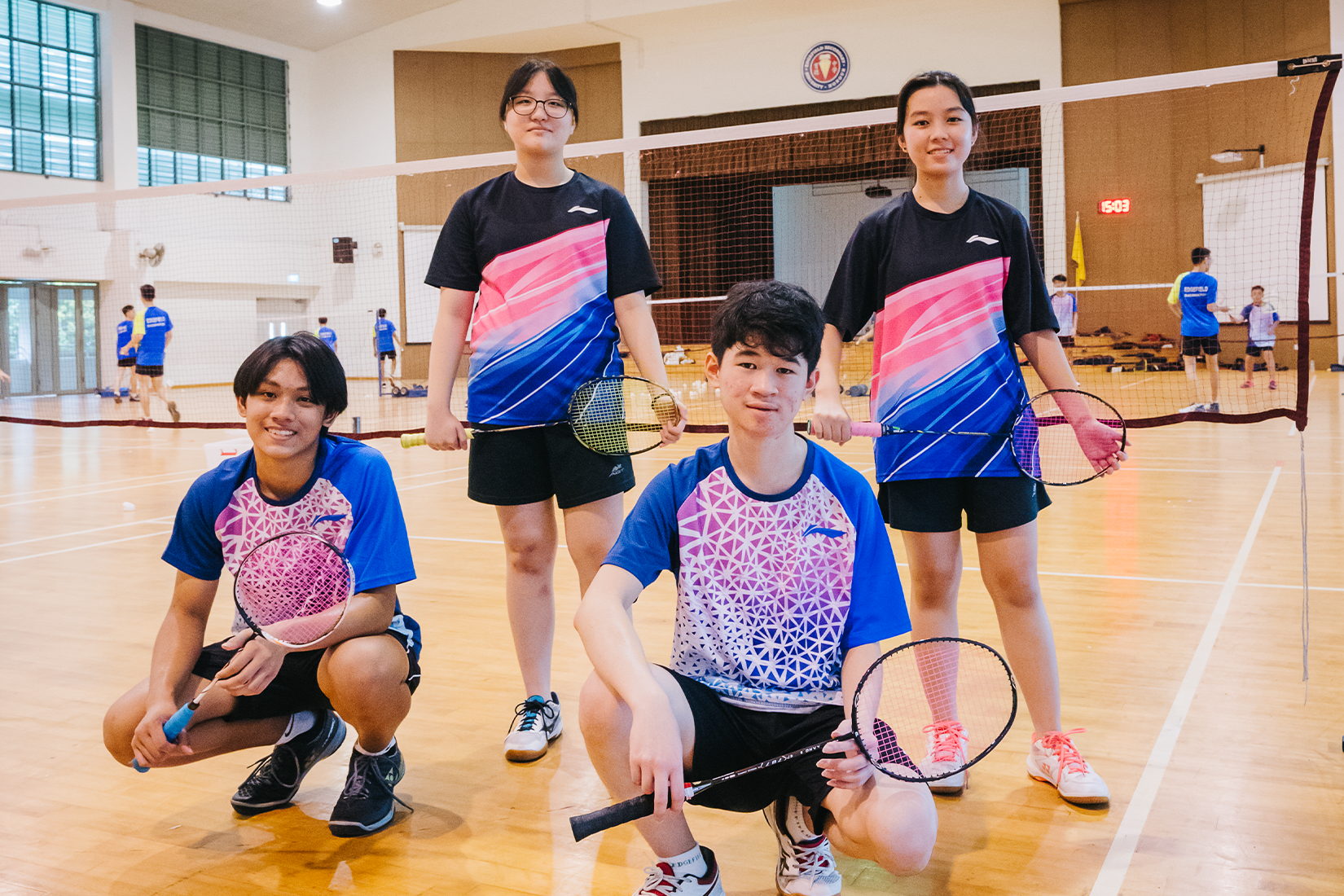 Badminton
For more details, please click here.
"I enjoy being in a sports CCA because it allows me to learn many important values which we can apply in the future. Everyone in the Badminton Team has a common interest thus we connect well and create a friendly and conducive environment for our training. Furthermore, going through hardships with each other helps form a sense of camaraderie. We would look out for each other, have fun together, and develop our badminton skills together. Finally, during the annual National School Games (NSG), our skills and nerves are put to the test, as we represent Edgefield to compete with many other schools, under pressure and facing different opponents. We need to learn how to keep a cool head in order to play out our best. During the NSG, our team encouraged each other to persevere, and we ultimately clinched 3rd place in the North Zone. This was a reflection of our commitment, perseverance and unity as a team!"
Chong Yu Xuan
Year 4 Euclid, 2023
Captain, Badminton, 2022-2023
3rd Place, National School Games (NSG) Singapore Schools Sports Council's (SSSC) Badminton North B Division Boys Finals 2023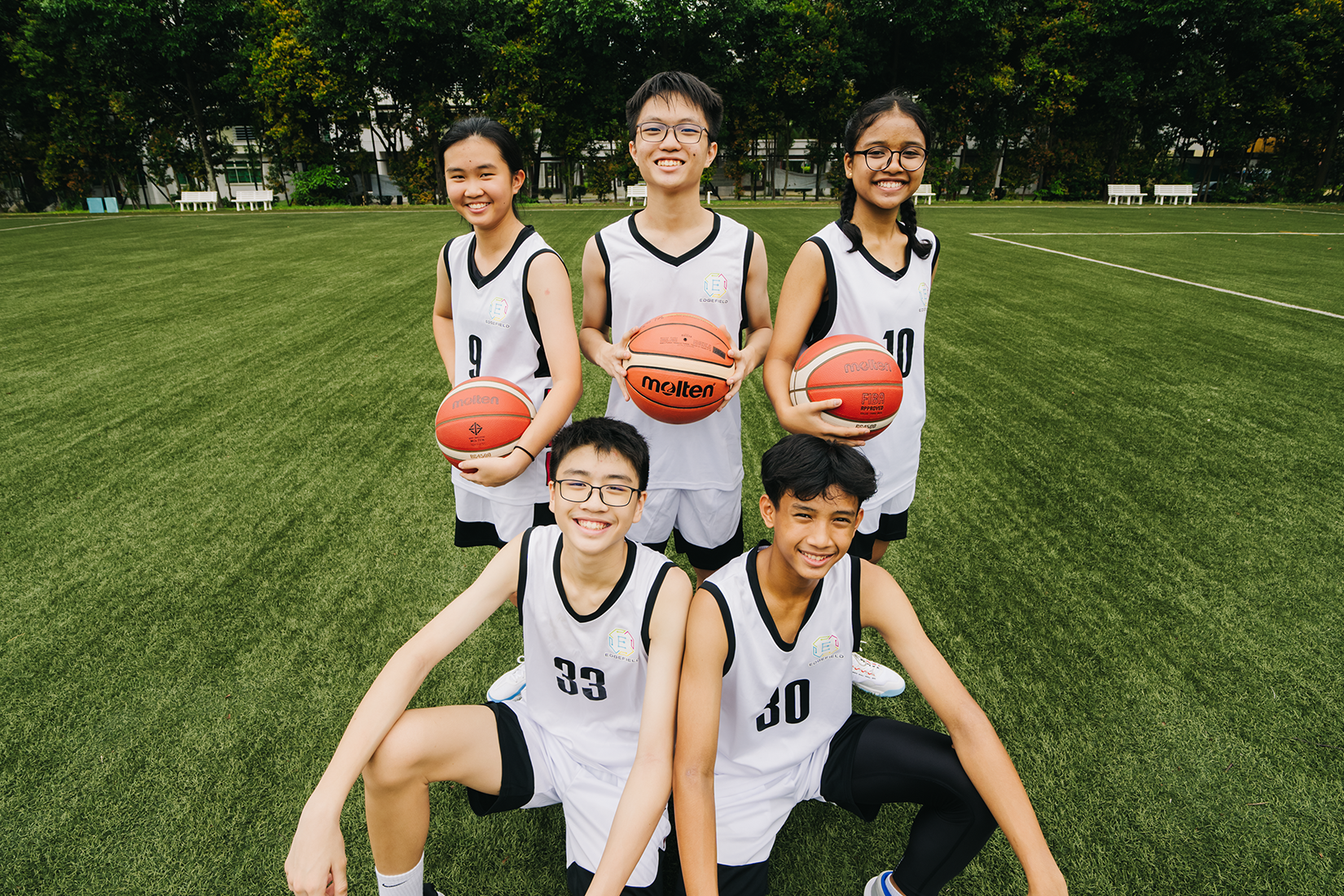 Basketball
For more details, please click here.
Basketball is a sport that requires not only physical presence but also mental tenacity in a player. After being in Edgefield Basketball for 3 years, I have grown to realise that Basketball is not just a game but a reflection of life on the hardwood court.
Here in Edgefield Basketball, the teachers and coach work closely with all of us to ensure that we meet and achieve the different objectives set out for us. We learn about teamwork, communication, decision making, respect, self-discipline and tenacity.
Being a Captain, I have learnt the value of responsibility and leadership. Through my teachers' and coach's advice, I have learnt to deal with difficult situations especially during competitions and have also learnt to manage my team's motivation and attitude during training. I have learnt that I need to have a very good grasp of my time as it is divided between my academics and training.
For the Girl's Team, we beat many odds to reach the Top 4 in the Inter-Schools South Zone Basketball Tournament in 2019. While it was a pity this year's competition was disrupted due to the pandemic, we have learnt not to give up and be adaptable. Instead, we have been focusing on training for next year's competition where we know we can get back stronger, fitter and more prepared than ever.
Being a part of the Edgefield Basketball team has allowed all of us to gain different life experiences that we can confidently bring forward to any aspect of our lives. People call basketball a sport but to all of us at Edgefield Basketball Team, it is our passion.
Goh Jia Rui Ashley
Year 3 Elias, Captain, 2020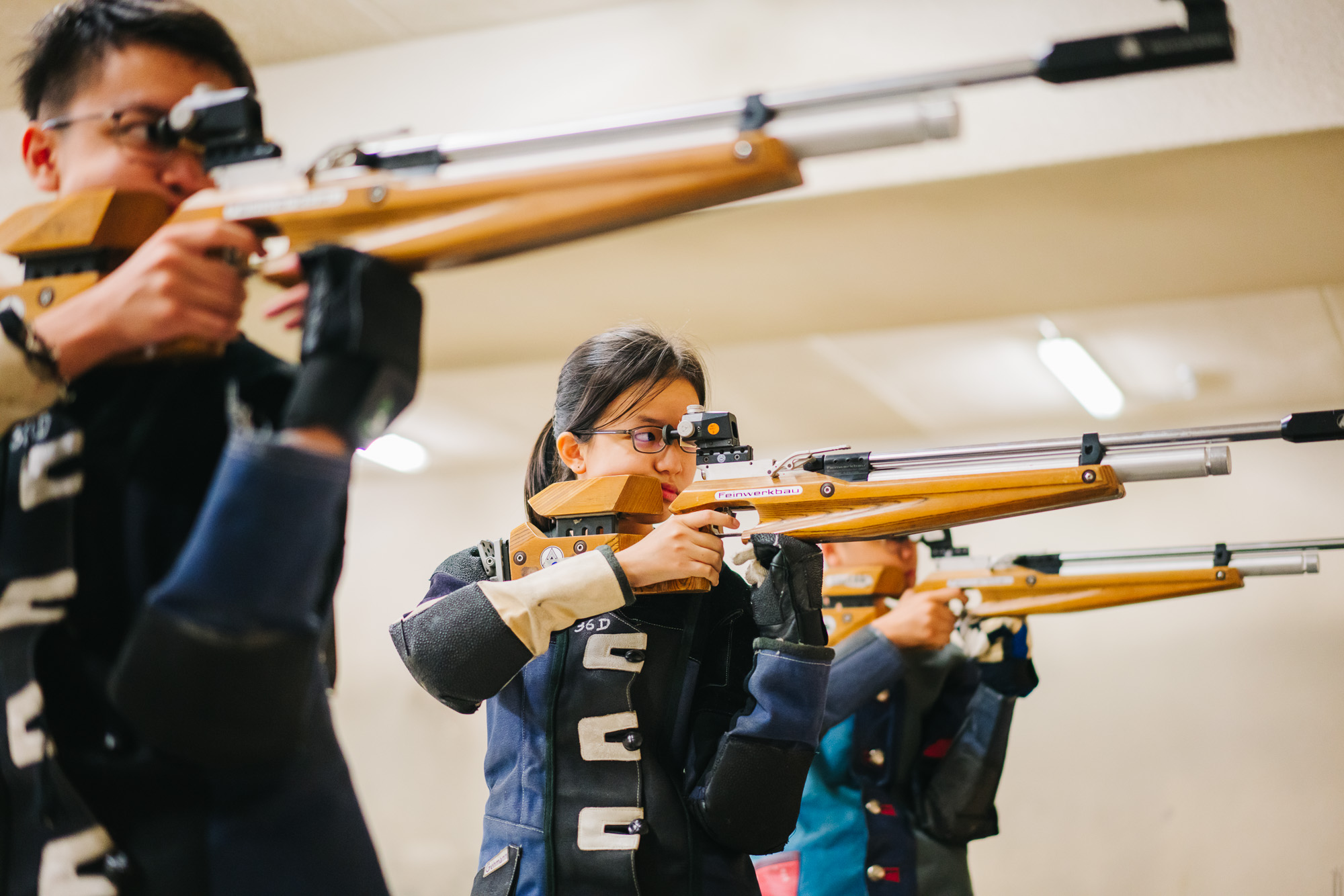 Shooting
For more details, please click here.
In these 4 years in Shooting CCA, I have learnt many life lessons and values, and experienced ups and downs with my CCA mates. As Captain, knowing how to appropriate commands and leading the team is being able to understand and communicate well with my peers and juniors. This bonding has helped to make the CCA more fulfilling and fun.
I am very grateful for my coach, peers and teachers who supported and guided me along the way. Shooting CCA has not just taught me about its sport but also its values and beliefs. It has taught me how to be humble and yet able to display my leadership skills in encouraging and motivating my peers.
Charlene Wong Jing Ying
Year 4 Eisenhower, Captain, 2023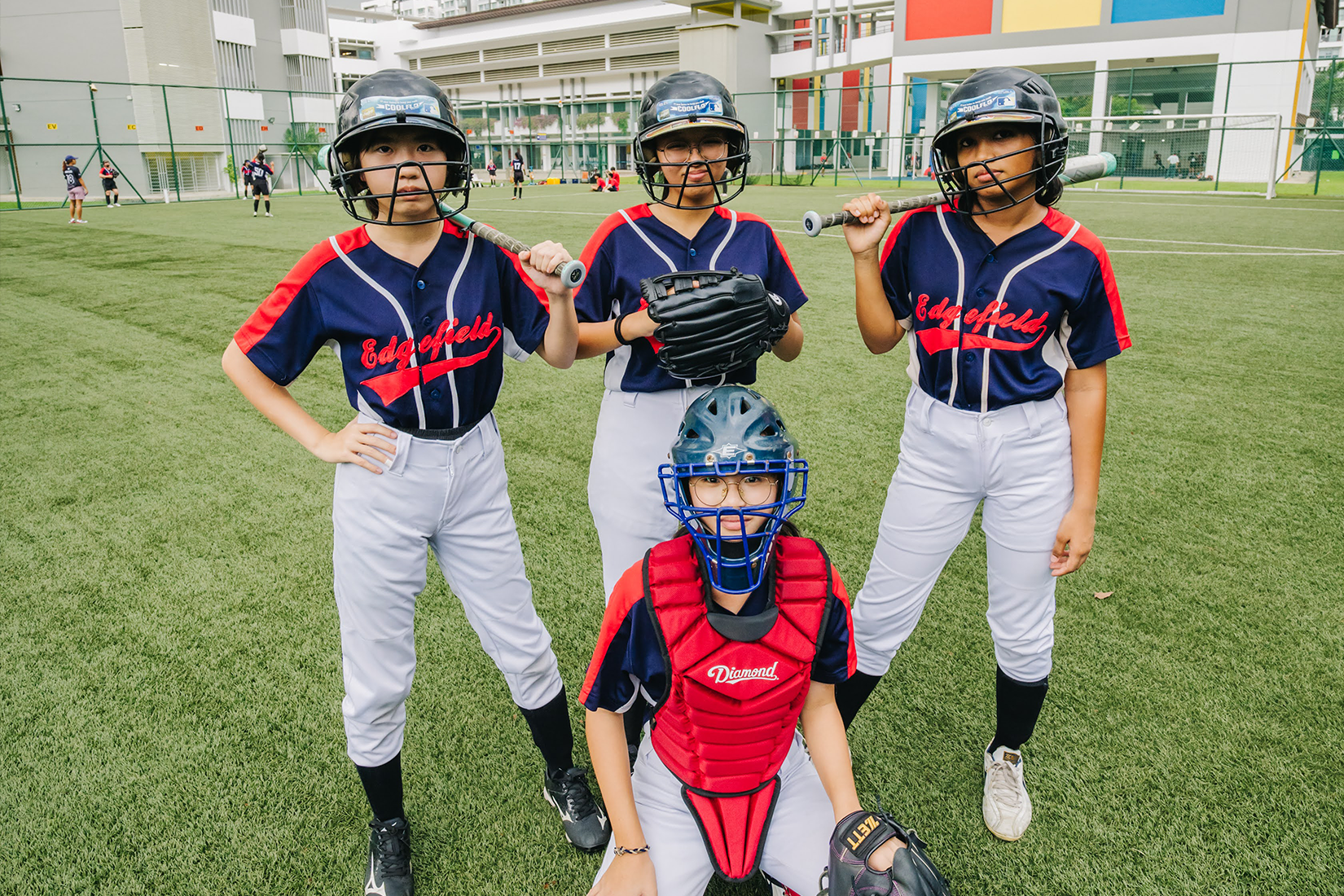 Softball
For more details, please click here.
"Softball is a wonderful sport which requires a lot of teamwork and communication. Physical training is required in order for us to be fit to play the sport. Sometimes, I have thoughts of giving up and doing my physical training halfheartedly, however, as the captain, I have to discipline myself and set the example for my team. Softball has taught me to always persevere and to push myself beyond my limits. The game of Softball is unpredictable and as my coach always says, "the ball is round" anything can happen during the match so we need to fight hard until the last moment. As a pitcher and captain, I have grown to be mentally tougher in this CCA. The thing I truly love about this CCA is the people. My CCA mates are like family. We always support each and every member of the team. We have this saying, "all for one, one for all". The bond and connection between my teammates is essential in order to accomplish anything on the field. I am also very grateful for my coach and teachers-in-charge. They have given me a tremendous amount of advice which I will carry on throughout my life."
Elenois Dwaine Salinas Siapno
Year 4 Everest, 2023
Captain, Softball, 2022-2023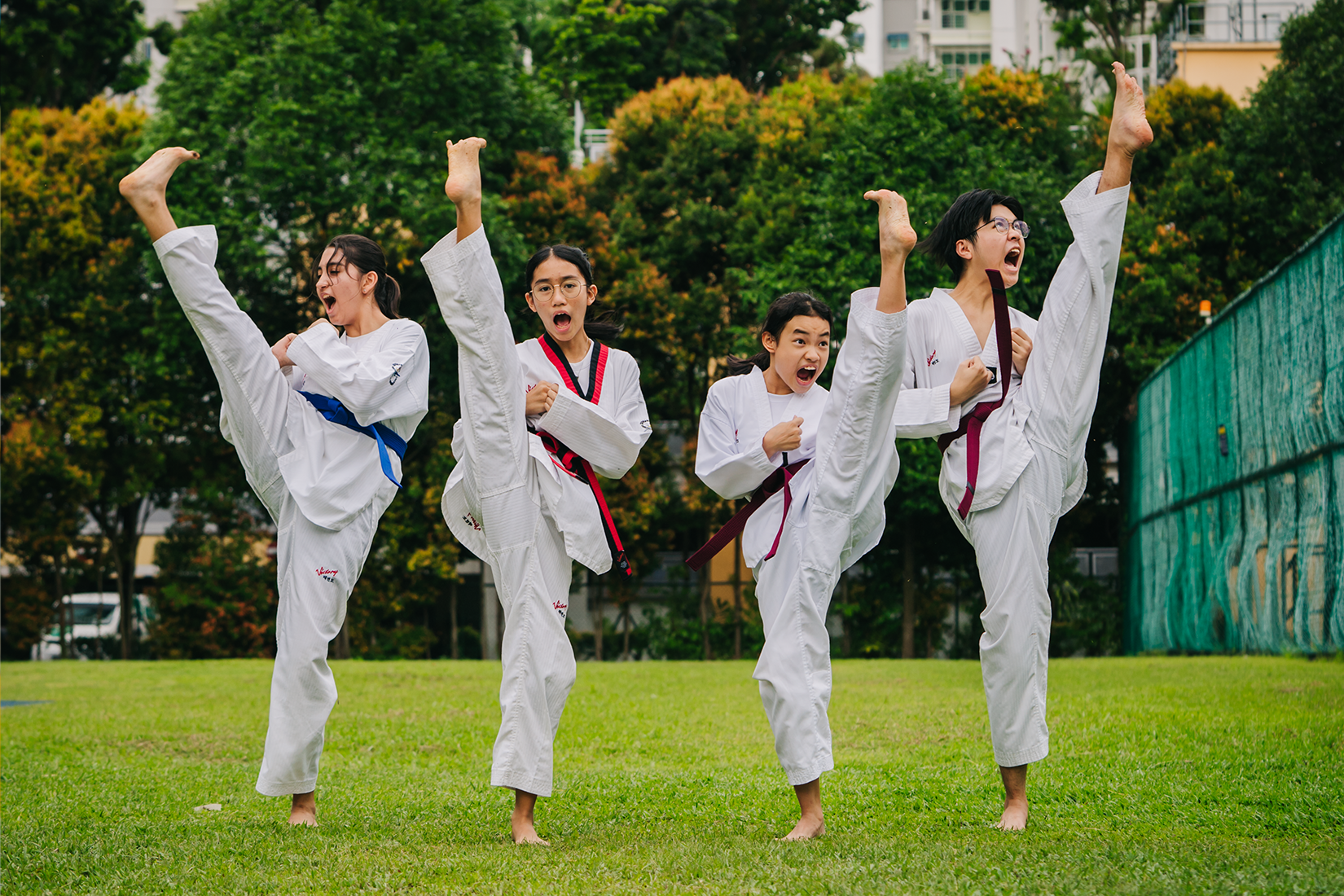 Taekwondo
For more details, please click here.
"Taekwondo CCA has contributed to incredible growth not only to myself but to my team. Leading this team has been an honour and a privilege as I witness everyone's continual dedication and growth. The National School Games competition was a testament to our team's hard work and preparation. We faced formidable opponents, but our team remained focused and displayed exceptional skills and techniques.
I am immensely proud of every member of the team. Their unwavering commitment to training, resilience, and strong team spirit drove our success. Together, we pushed our limits and achieved remarkable results.I would like to thank the school for the support and encouragement in uplifting our team's spirits throughout the competition."
Chew Yee Jing
Year 4 Emerson, 2023
Captain, Taekwondo, 2022-2023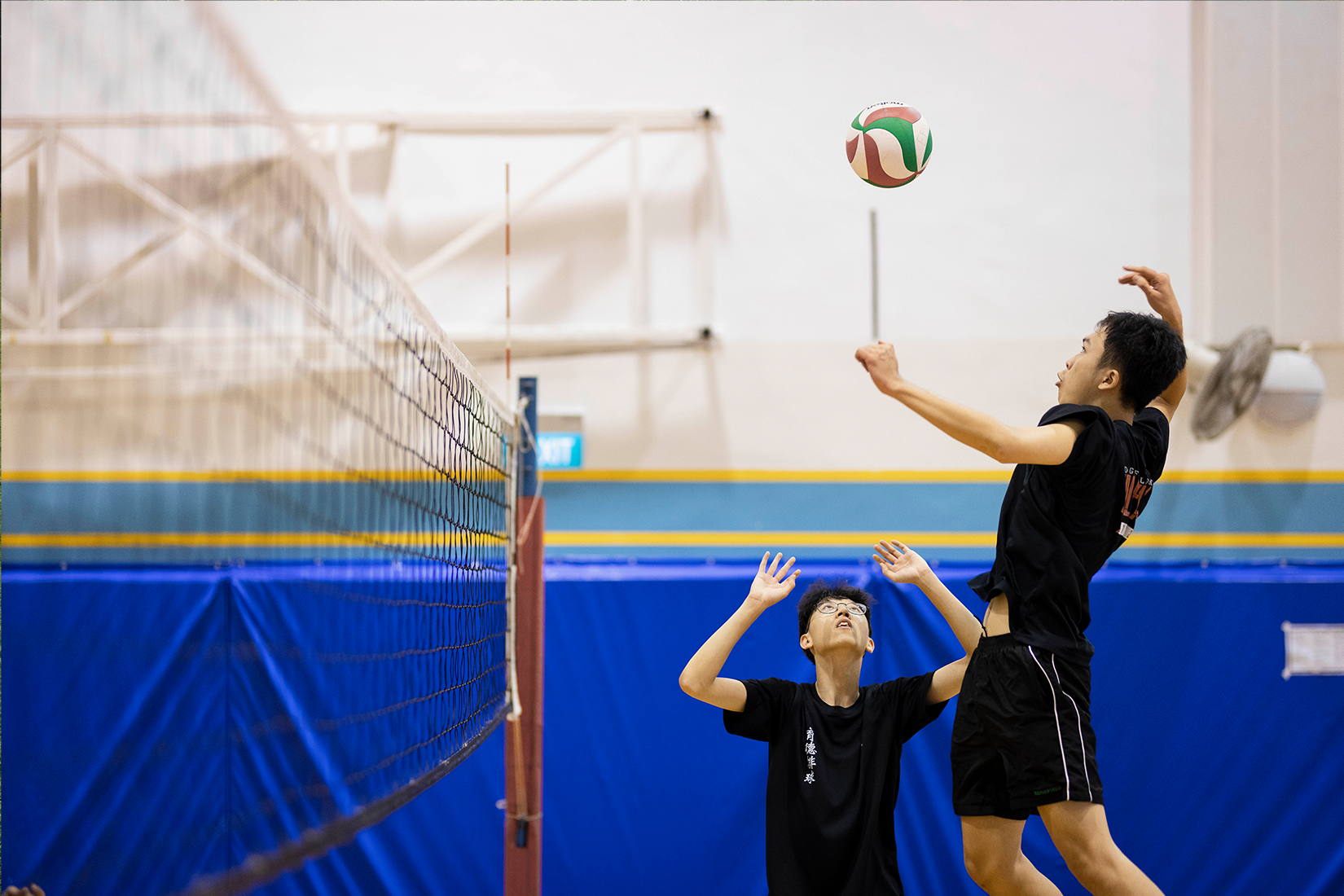 Volleyball
For more details, please click here.
"Volleyball has helped me become  mentally and physically stronger. Besides drills such as spiking, receiving, setting and service, we also cultivate values such as  resilience, integrity, respect, sportsmanship and enthusiasm. Resilience will help us in being mentally tougher and not giving up easily. Integrity gives us the courage to own up and be honest. We respect our opponents by not being arrogant and this makes us develop sportsmanship. Whenever we lose a match, we learn from our mistakes and we find ways to improve together as a team. 
I enjoy volleyball as it is a team sport and it teaches us to work together. The skills I've learned have helped me to be fitter, more  agile and focused in my PE lessons. The values that I picked up from Volleyball have certainly helped me value everyone in a team and appreciate their different strengths and skill levels. It takes everyone to make a TEAM in Volleyball!"
Caspian Tan Yen Feng
Year 2 Emerson, 2023
Lower Secondary Vice Captain, Volleyball, 2023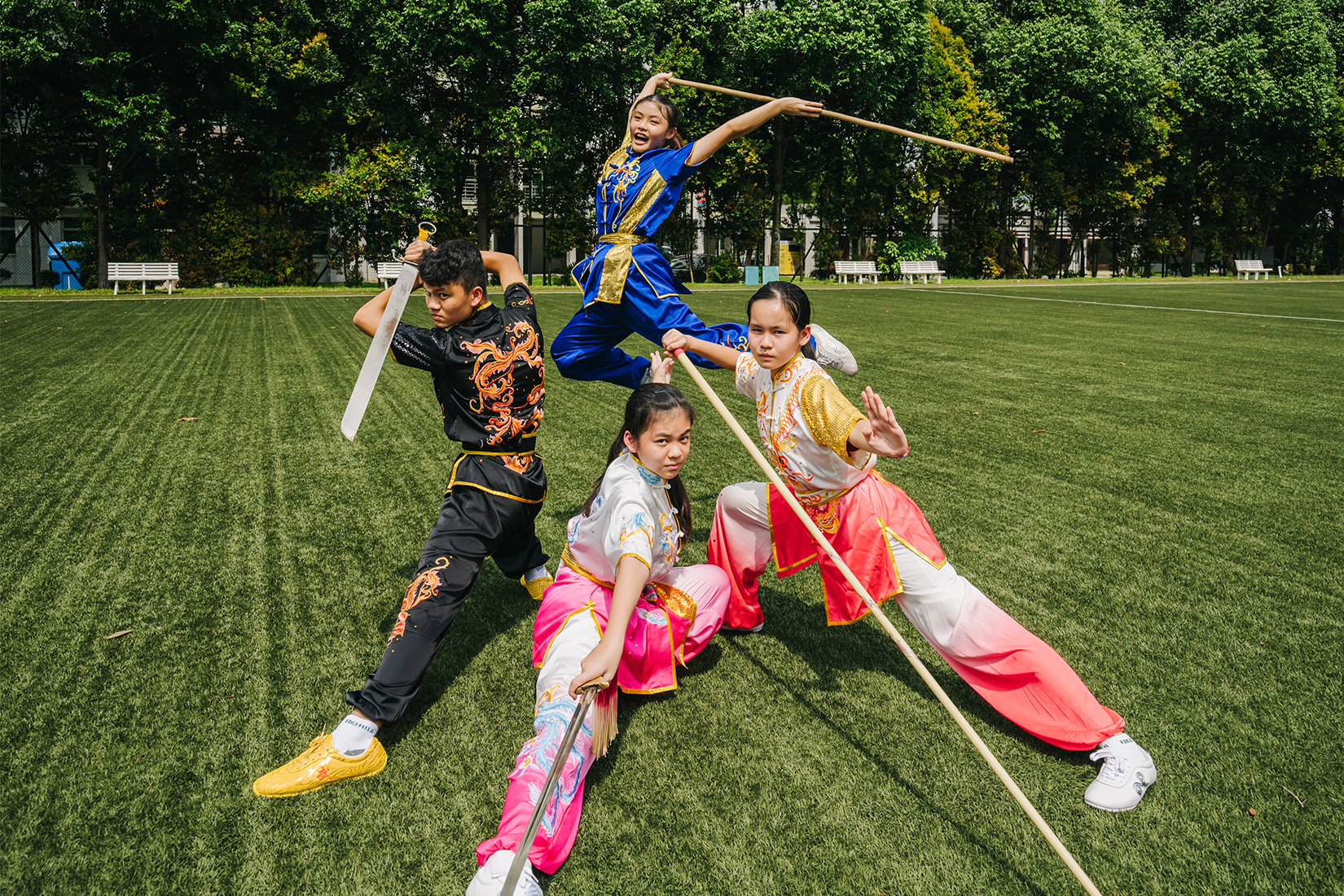 Wushu
For more details, please click here.
Wushu teaches me important life skills that would really benefit me in the future. One of those skills is the ability to concentrate fully on the current thing that I'm doing. When learning a move or routine, I'll need to put all my attention to it so as to learn and remember the details of the moves and routines. Over the course of the CCA trainings every week, I am able to make it a habit to focus on the thing I'm doing, this helps me to deal with external distractions better. Wushu also inspires our imagination as we will have to choreograph the wushu performances that are put up during festivals. The need to think and combine different basic moves smoothly really improves our creativity.
One value that I've learnt from wushu is patience. Improvement in your skills takes time and your skills wouldn't improve drastically overnight. Therefore, I need to be patient and continuously put in 100% effort in each session to make progress and continually improve. Moreover, Wushu has also taught me to be resilient and disciplined, so that I do not lose my courage in the face of difficulties and failures. These values ensure that when I face challenges in my academic studies (not being able to do well in certain subjects) or in my daily life, I do not give up easily and persevere. Beacuse of Wushu, I am able to have more patience towards my family and peers, thus I am able to remain calm when others are getting impatient, bringing less conflict between me and others.
Concentration is needed every time we carry out a task and with the skill to concentrate and focus well, we will be able to efficiently complete our task, in school or in the workforce. This allows us to perform better in the future. Moreover, the patience developed during the training will allow us to remain calm and collected even when we are unable to accomplish our goals right away. This then helps us to be more efficient since we do not leave difficult tasks aside. Lastly, we will be experiencing many challenges and setbacks in our life but with the development of resilience in Wushu, we will have the determination to strive through the difficult times and not be stopped by the challenges, continuing to work hard towards our goal.
Cai Xinyan
Year 4 Edison, Captain, 2022