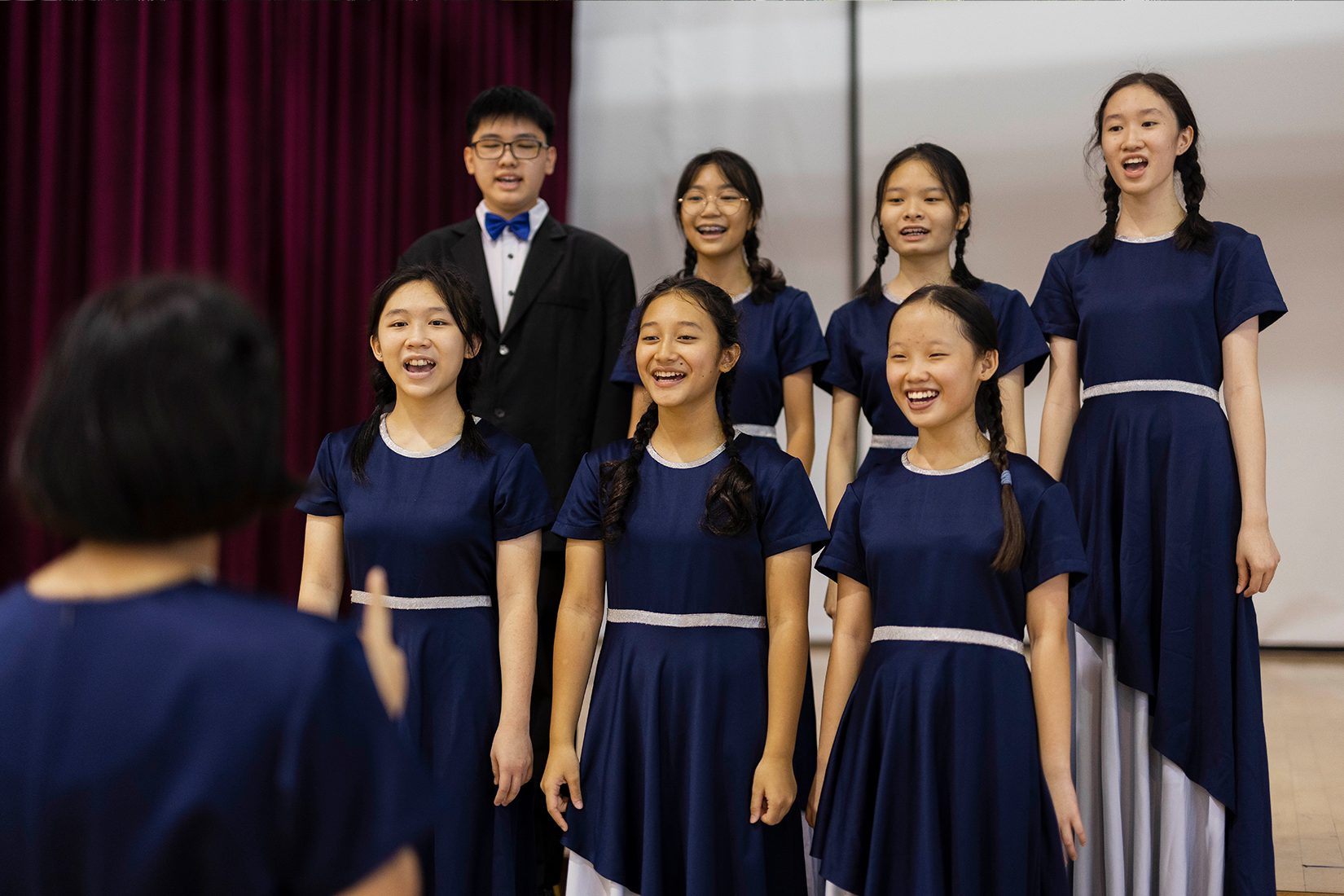 Choir
For more details, please click here.
Being the choir president has presented me with many opportunities to go past my limits and continue to improve myself. For example, allowing myself to conquer my fear of speaking in front of crowds, through having to lead the choir during warmups and giving debrief at the end of the training. I have also gained much confidence through the process.
Resilience and teamwork are some of the useful skills that I have grasped by being in this CCA. During choir sessions, when our vocal coach gives us constructive criticism on how to improve, I would take his suggestions and put them in mind, and consequently practise during my free time. This is an element of resilience, never giving up no matter what and to keep trying.
It is also important to have teamwork as all members will need to know when they have to sing a certain part, and everyone has to know they are in it together. If one person decides to give up halfway, the entire performance would not be ideal. Teamwork also ensures that work gets work done more efficiently and consistently. I am really happy to see the choir coming together and harmonize.
Shernice Chan
Year 4 Eisenhower, President, 2023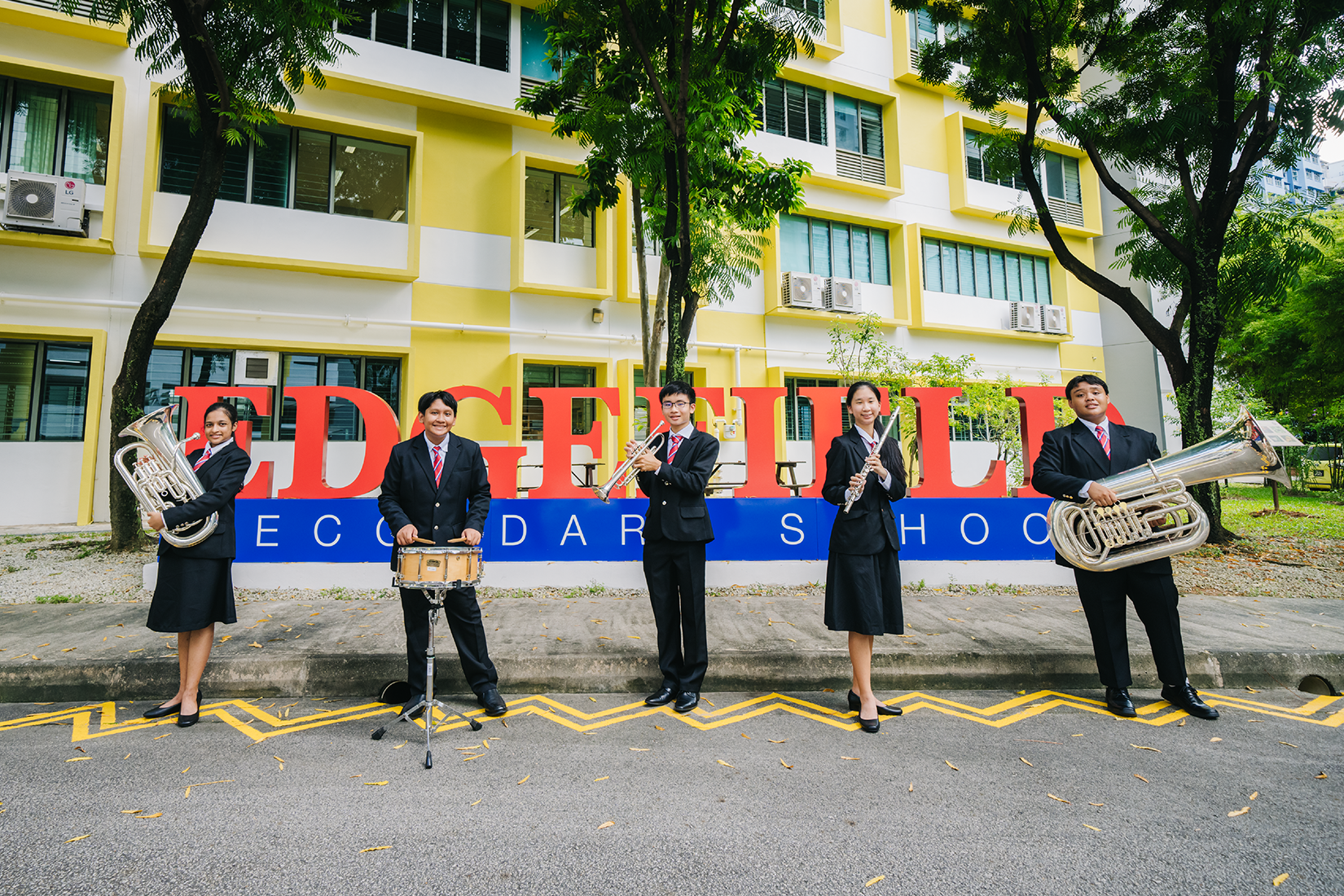 Concert Band
For more details, please click here.
I have learnt many skills from being in the Concert Band. These skills include playing a new instrument and having a deeper understanding of music.
Being in the Band has taught me important values like responsibility and teamwork as I would not be able to play a nice piece of music without other members of the band. I have also learnt to be confident, especially when performing.
I have definitely enjoyed making new friends in the Band. The teachers and conductors are very patient and friendly. The people in Band definitely help to make each practice fun and enjoyable. I would most definitely consider joining a band again in the future or even pursue my passion for music and learn music at a higher level.
Jin Zixuan, David
Year 3 Eliot, Member, 2020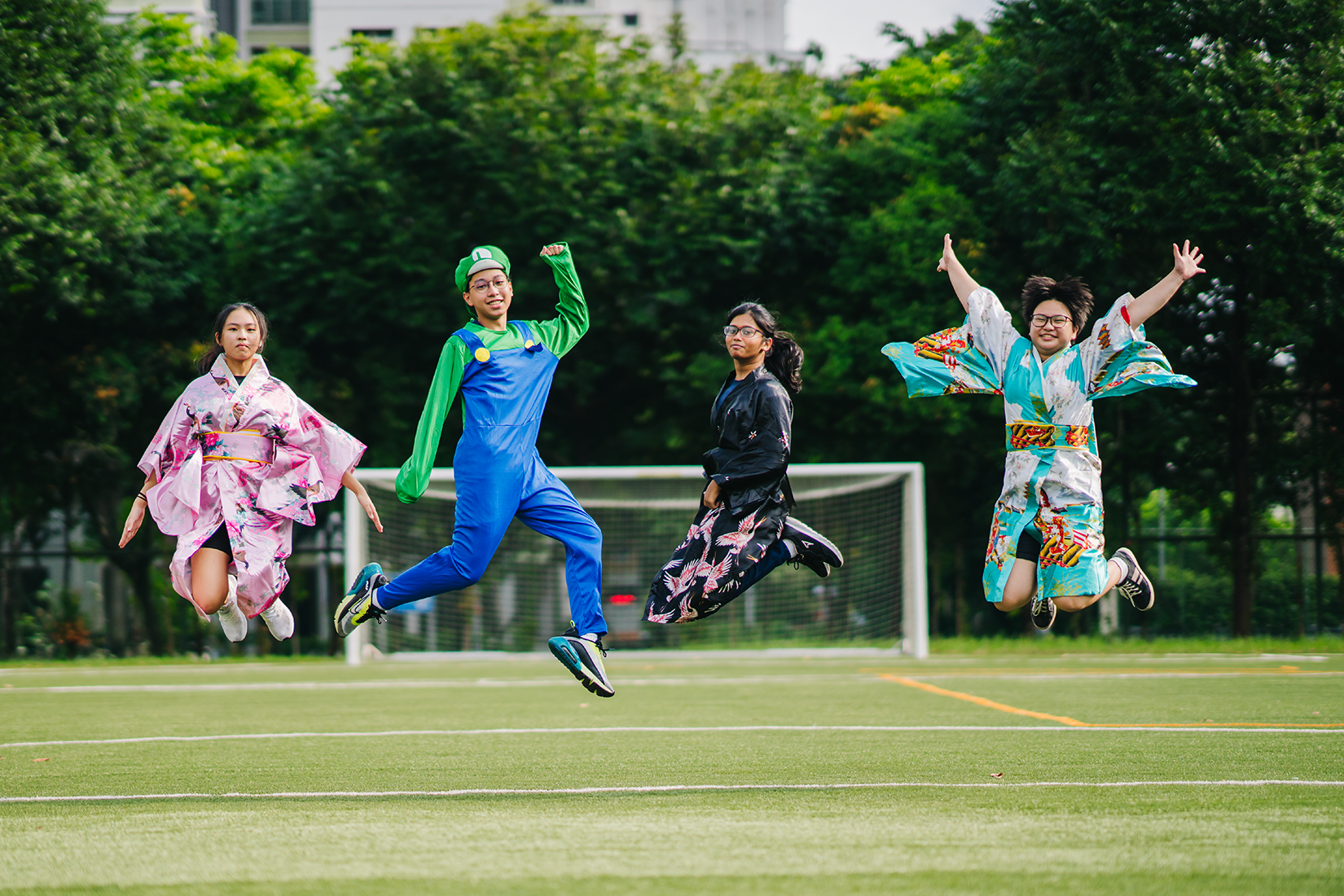 ELDDS
For more details, please click here.
Having been in this CCA for 4 years, I can guarantee that ELDDS is a CCA which allows you to develop skills that will benefit you in future. Not only does it build your confidence, it also trains you to be an efficient, disciplined and adaptable team player.
Through this CCA, you will learn the art of acting and being a character other than yourself, which trains you to step out of your comfort zone and experience new things. The constant feeling of novelty keeps members on their toes, making ELDDS an enjoyable CCA, especially for those who love the thrill and excitement.
Many of our CCA members have grown to become confident and responsible leaders. With ELDDS, you will definitely be able to develop skills and inculcate values that prepares you for the future!
Sherylene Siew
Year 4 Eliot, President, 2022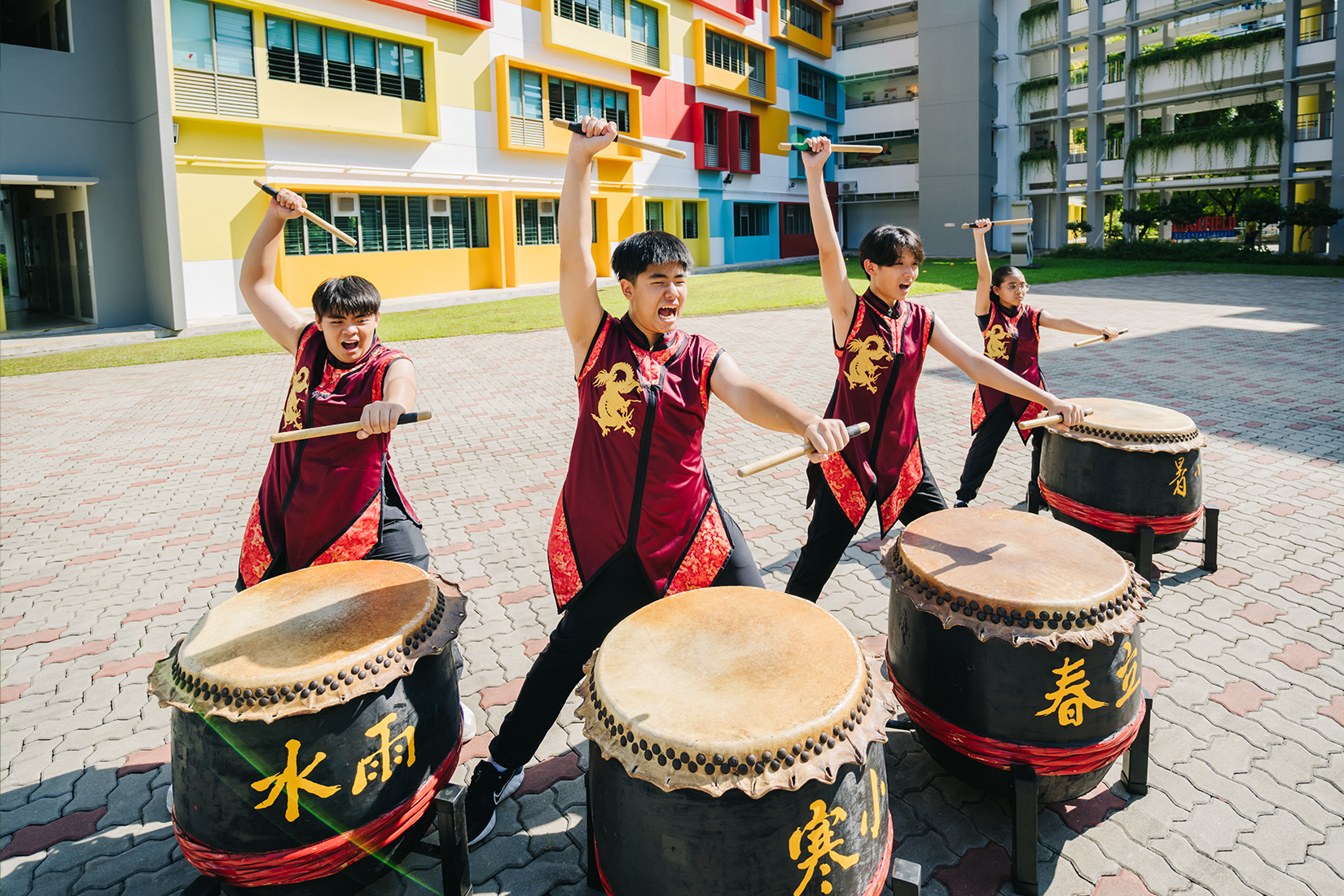 Festive Drums
For more details, please click here.
I joined Festive Drums without much knowledge but as time passed, my interest for this CCA grew stronger as I started to enjoy every moment, realising it was alright to make mistakes so long as I learnt from them and improved. This love for drumming grew in me while I gained more experience on my drumming journey. Every second has been precious and enjoyable and whenever CCA sessions come to an end, I am always looking forward to the next session.
I enjoy every moment I with my juniors and seniors and am really glad that they are a part of my journey. I really appreciate that I was given a chance to lead. It helped me grow further, not just in terms of values but also in terms of the ability to bond with my CCA members more.
I do not regret selecting Festive Drums as one of my choices. This CCA has taught me teamwork, perseverance, responsibility and many other values. Over time, drumming has turned into a passion for me and it has never stopped growing. Our instructor is also always looking out for us, giving us feedback and helping us in many ways like teaching us different tactics in memorizing scores and refining the way we hold our drum sticks.
Every performance is precious to me as we have watched each other grow from being anxious before the performance to developing confidence and achieving the sense of satisfaction after each performance. We have built a passionate team with strong synchronization and I'm really glad to be in this CCA.
Daseryn Lui
Year 3 Einstein, Member, 2020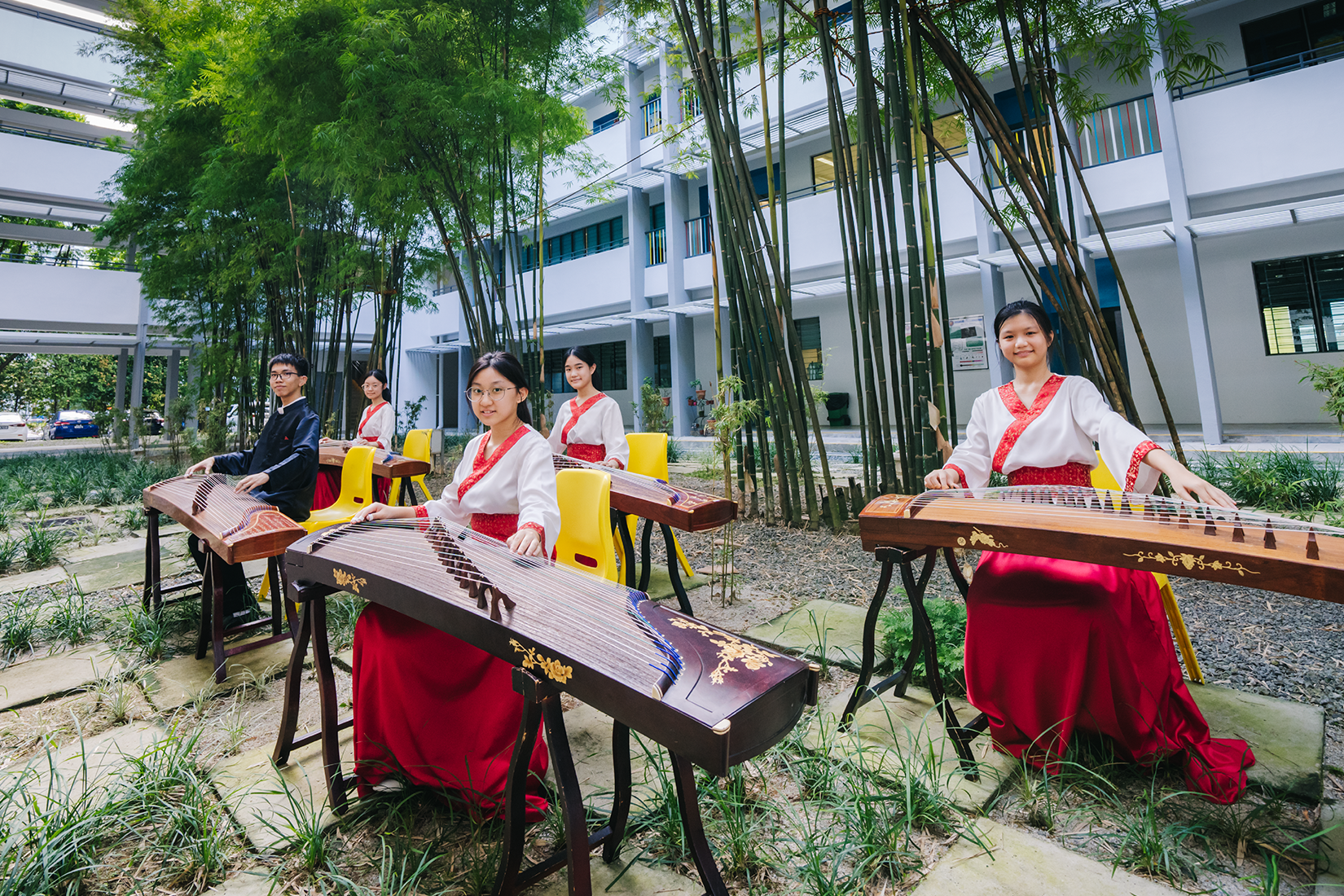 Guzheng
For more details, please click here.
Guzheng CCA taught me how to express my emotion through music. Each piece of music has its own background story. By playing the Guzheng in different pitches and tones, it allows me to express different emotions and to communicate with the audience through music.
Being a member of Guzheng CCA has given me an opportunity to learn more about teamwork. It requires all members to work together, listen to different sections in order to give our best performance to the audience. This value has had helped me in various school projects as I know the importance of working with my teammates.
I really enjoy the moments when all the sections of the CCA are able to synchronise and create beautiful melodies. I treasure the opportunity to be the Vice President of the Guzheng CCA. It is therefore my responsibility to care for other members and it has helped me to become a better leader.
Ng Wenyu
Year 3 Eliot, Vice President, 2020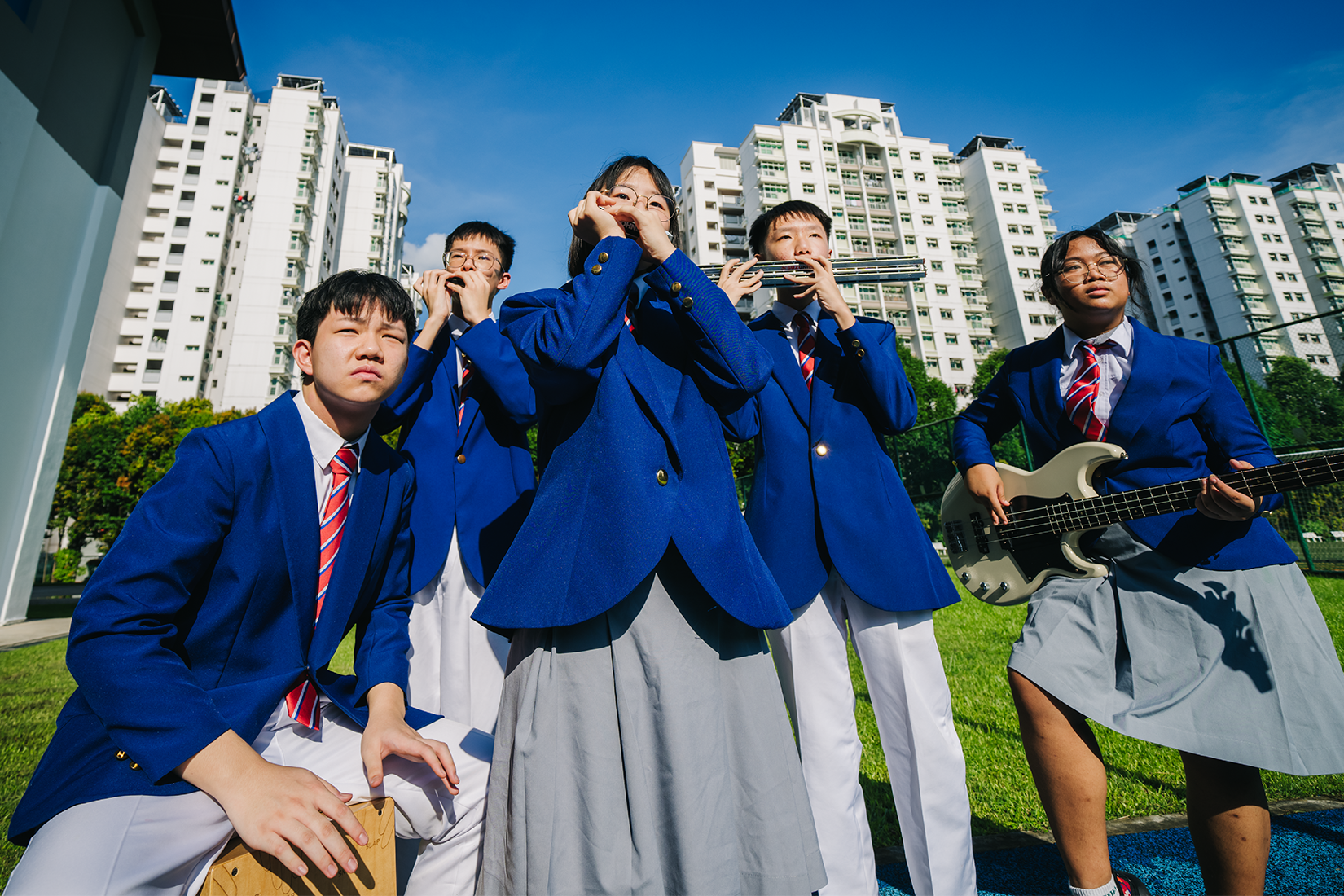 Harmonica
For more details, please click here.
Joining the Harmonica CCA has helped me learn how to read number scores. Prior to joining the CCA, I could only read the 6 line music scores. I can now read number scores easily. This is an important skill that I can bring with me after secondary school.
I have learnt values such as responsibility and patience from this being in the harmonica band. I have to take responsibility for learning new songs so that I am able to play the songs during performances. I have also learnt to be patient when teaching my juniors and members in my section when learning new songs. I enjoy learning to play songs as it is very fun to be able to play a song together with the whole band! I think that performing as a band is the most enjoyable thing to do in the CCA.
The skills and values I learn in the CCA will definitely be applicable to my tertiary education and maybe even the workforce. I would have to be responsible in my work and be able to collaborate well with my future colleagues.
Nur Khairunnisa Binte Mohamed Khir
Year 3 Euclid, President, 2020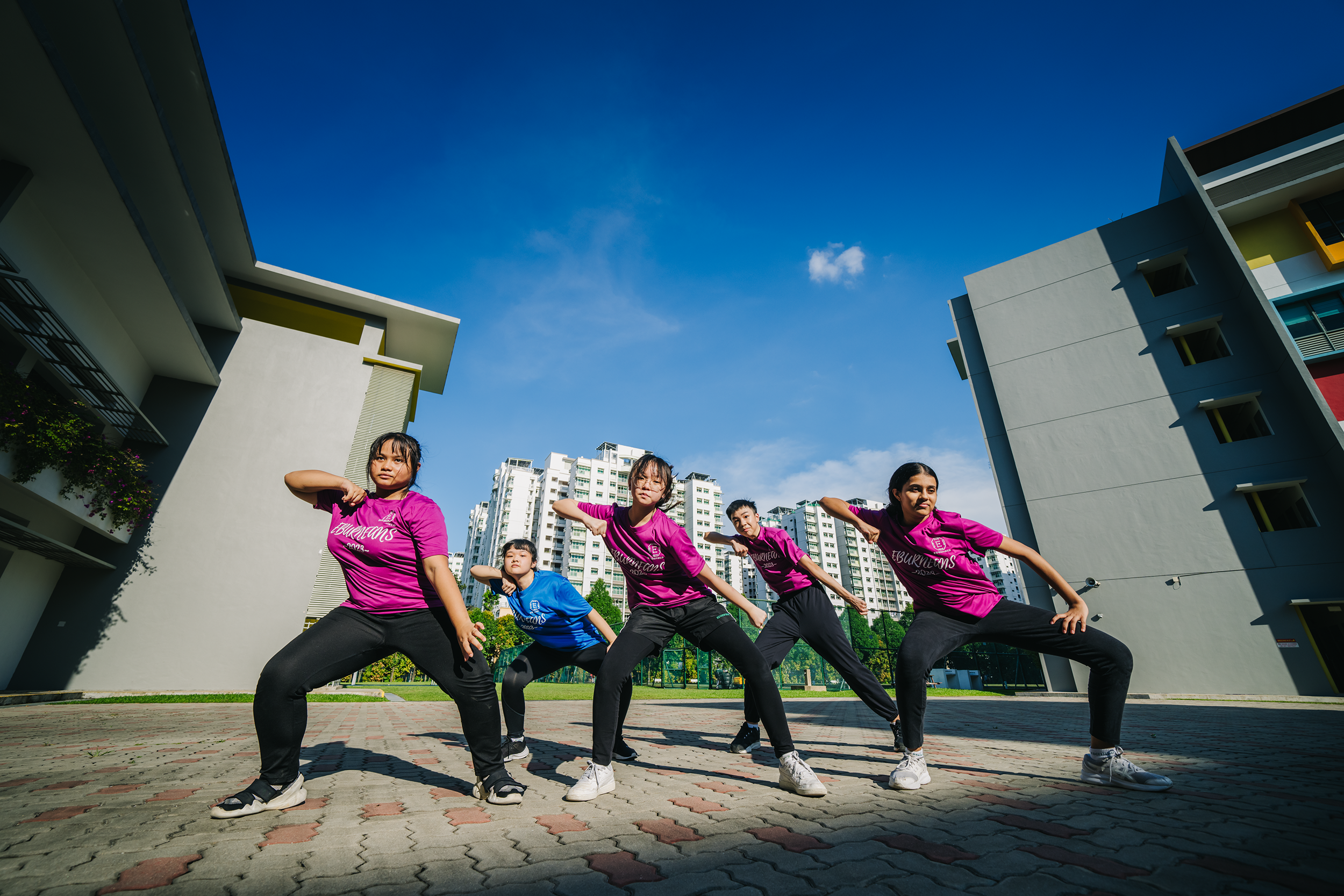 Modern Dance
For more details, please click here.
Modern dance has been a significant part of my secondary school journey. Not only is it a place for me to develop my interests and passion in dance, it is also where I build strong relationships with my CCA mates from all levels. We have cried and laughed together, and spent tough times together. These years in Modern Dance are an unforgettable and memorable part of my life and I will never forget this experience.
Ezann Tan Yi Xin
Year 4 Everest, Vice-President, 2022
Being a part of this CCA has helped me hone my soft skills. I have also learnt how to be an effective communicator from the given opportunities to interact and empathise with my team mates. These have indubitably supported in the process of forging stronger family-like bonds in our CCA. Joining Modern dance also gives us an exposure to the vast array of dance genres that our instructors guide us through with much dedication.
Kurma Dhanya
Year 4 Eliot, Vice-President, 2022